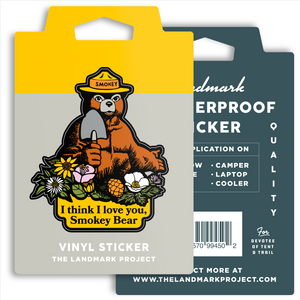 Smokey Bear loves you too for buying this sticker and putting it on your favorite water bottle or rear windshield. Because when you do, 10% goes back to the Wildfire Prevention Education fund. It's more than just a rad sticker, it's a way to protect our public lands.
Durable and weatherproof, Landmark stickers are printed using UV LED curing technology. They are produced in the USA using green technology in a green facility.
Most Landmark stickers are 2.5"x3", contain no plastic materials, and are 100% sustainable.
Design by the Landmark Project